Vocational and life skills training
YAWE Foundation Vocational Training Program aims at providing employable skills to young people that meets the job market demands. The skills will enable individuals after completion to create their own jobs or find employment opportunities so as to be self reliant.  We provide structured hands on training to all our trainees so as to have practical knowledgeable and skills in areas of their specialization. We also integrate our training with entrepreneurship and small scale business enterprise management skills to enable the youth start and manage their own business. We keep in touch with young people who have successfully completed the training to give necessary support to our trainees in their business ventures.
We offer hands on informal training since the target beneficiaries of the vocational program are mostly orphans, adolescents living with HIV and young mothers who did not have chance to complete formal education. We give disadvantaged youth practical skills to start and manage their own business as an attempt to address unemployment problem. Our training targets mostly vulnerable young adolescents and youth who are out of school.
Objectives
To provide professional vocational skills to create employment opportunities for young people.

To provide entrepreneurship and life skills such as communication skills, team work and problem solving.

To provide career guidance and counseling to young people to join the labour market.
Training programmes
Hair Dressing

Tailoring

Knitting

Basic computer applications

Handcraft production

Bakery

Art and craft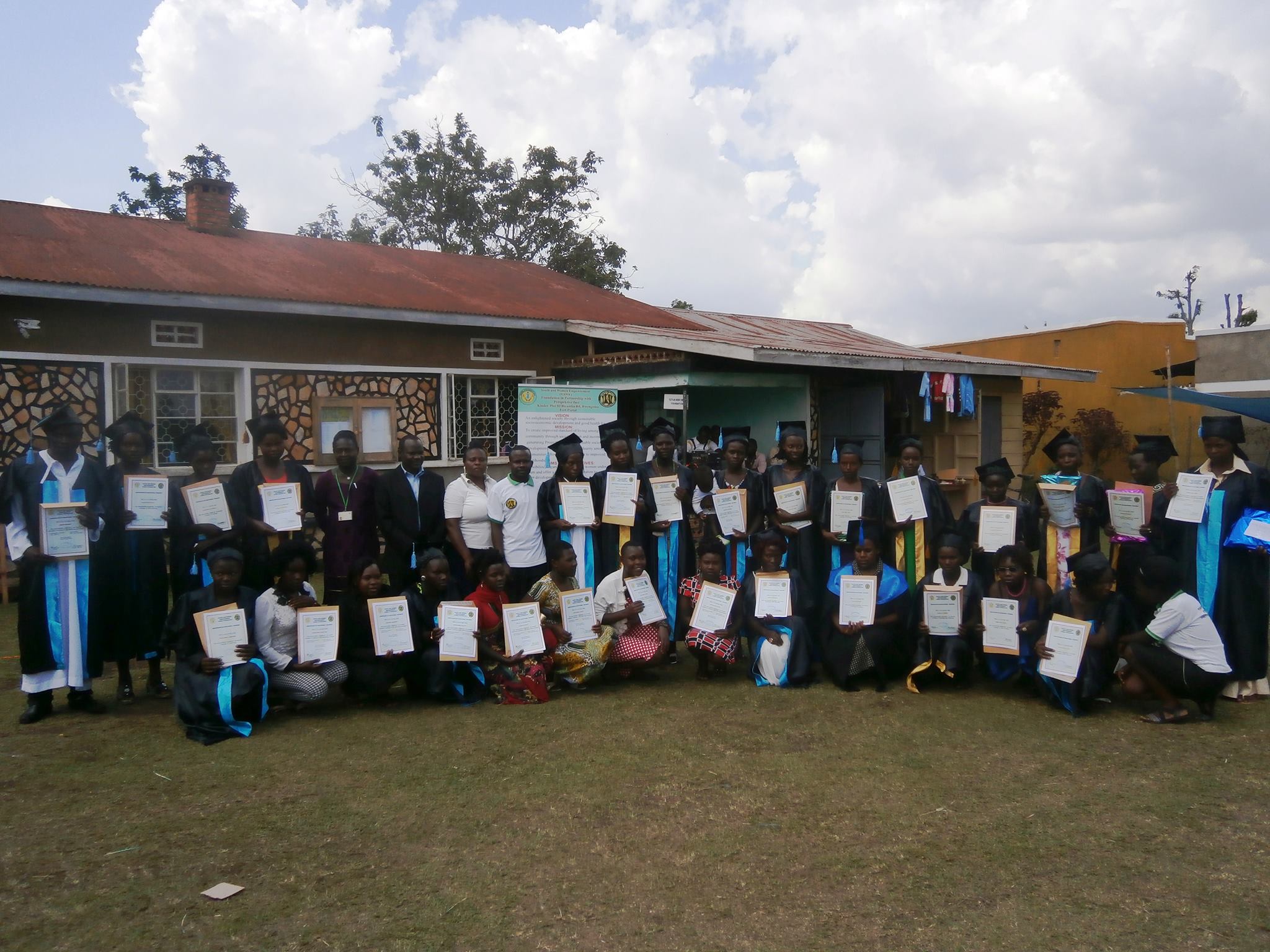 Youth show their certificates on their graduation day at YAWE Youth Centre.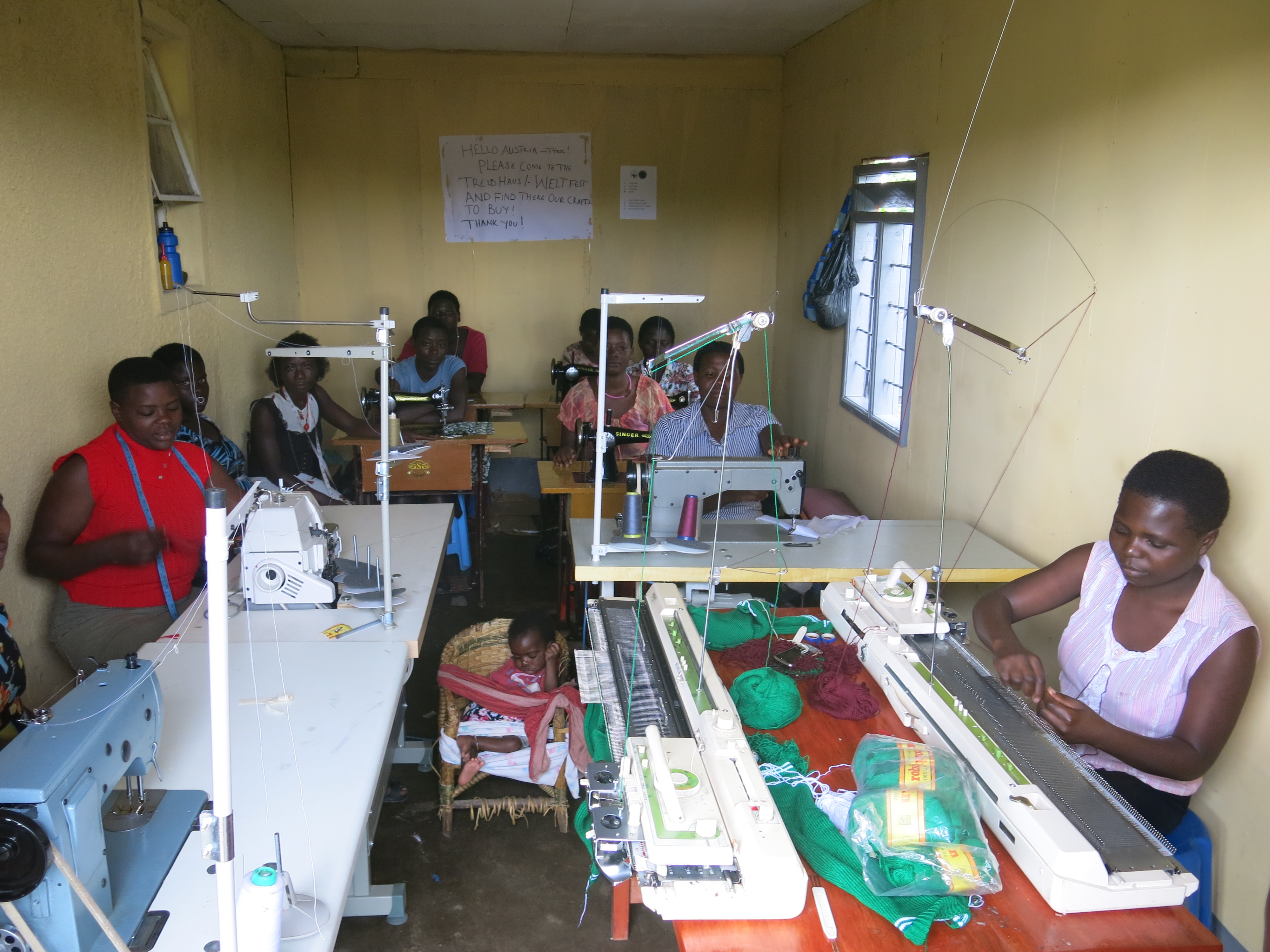 Youth train in knitting and tailoring
Information and Computer Technology (ICT)
We are training the youth in Basic Computer Skills such as how to use basic applications; hardware/software, storage devices, operating system, Microsoft Office and Web Based Social Net Working Tools such as email, face book, twitter, Skype etc. Our training targets students and school drop outs at secondary level. The training enables the youth use online platforms to share information. It also helps them to become self reliant and improve in their performance since computer knowledge is a prerequisite if one is to excel in higher learning.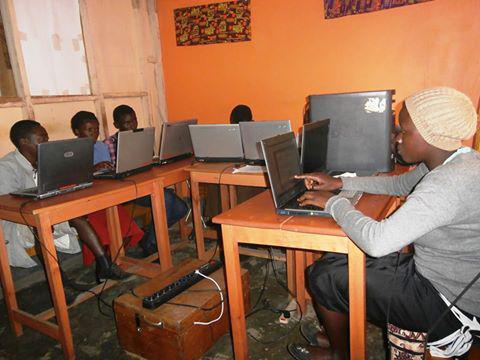 Computer training class
Art and craft
Handcraft project is another area YAWE Foundation has developed to address the current unemployment and poverty problem among the youth. We support and train the youth and women to make handcrafts. The crafts are made from artificial and local raw materials such as animal skin, horns, banana fibers, palm leaves, papers, papyrus etc.
We develop adolescents and youth talents in Art and Craft. The interested youth are trained in practical art and design. With the skills acquired, they can be able to make various art pieces, which can attract both local and foreign buyers.
Youth and women make crafts from their respective homes and meet every Thursday at the Youth Centre for training and sharing knowledge and skills. Crafts produced among others include hand bags, jewelries, table mats, hats, art pieces, decorations, baskets and mats. We also assist in finding market for our products both locally and internationally. These items are sold in our craft shop at the centre and others are exported. The returns from the crafts sales are given to the respective individuals who made the products hence improved standards of living.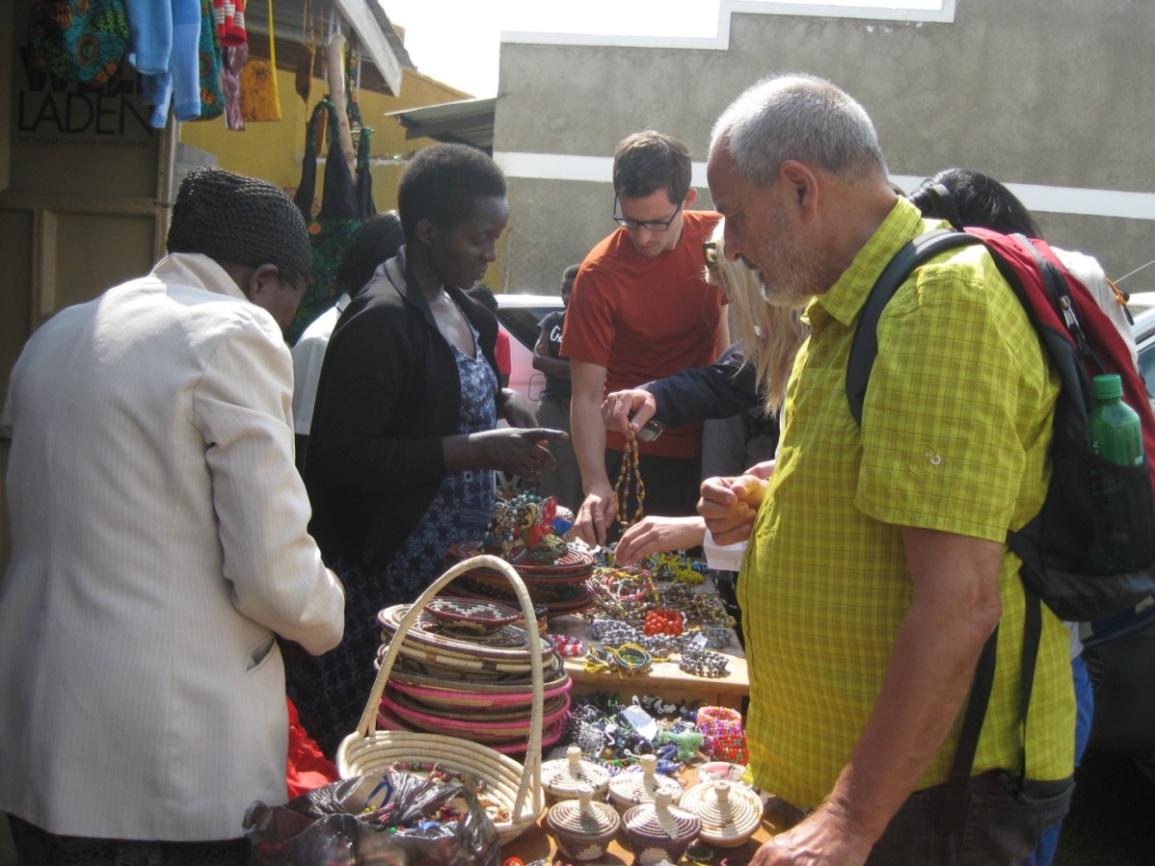 Guest look at handcrafts products at YAWE youth centre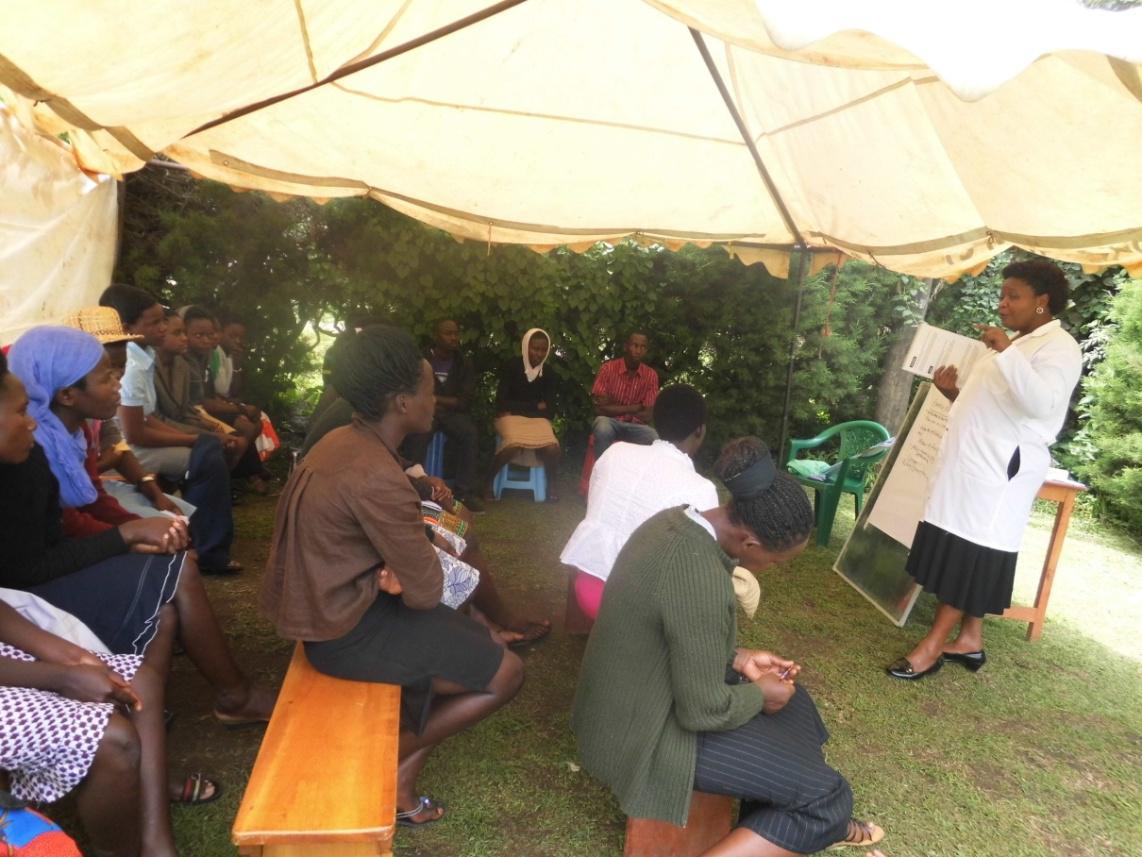 Trainees received health talk during life skills training.
YOUTH LEADERSHIP CAMP 28TH JANUARY 2016.
YAWE Foundation together with Peace Corps Uganda conducted a successful youth leadership training which covered among others the following topics to enhance youth leadership skills and work efficiency; Relationships, Team building, and Gender. About 47 youth turned up for the training and it was fun and educative since facilitation methodology was much participatory. The youth pledged to put into practice all they had acquired and also to empower other youth in their communities.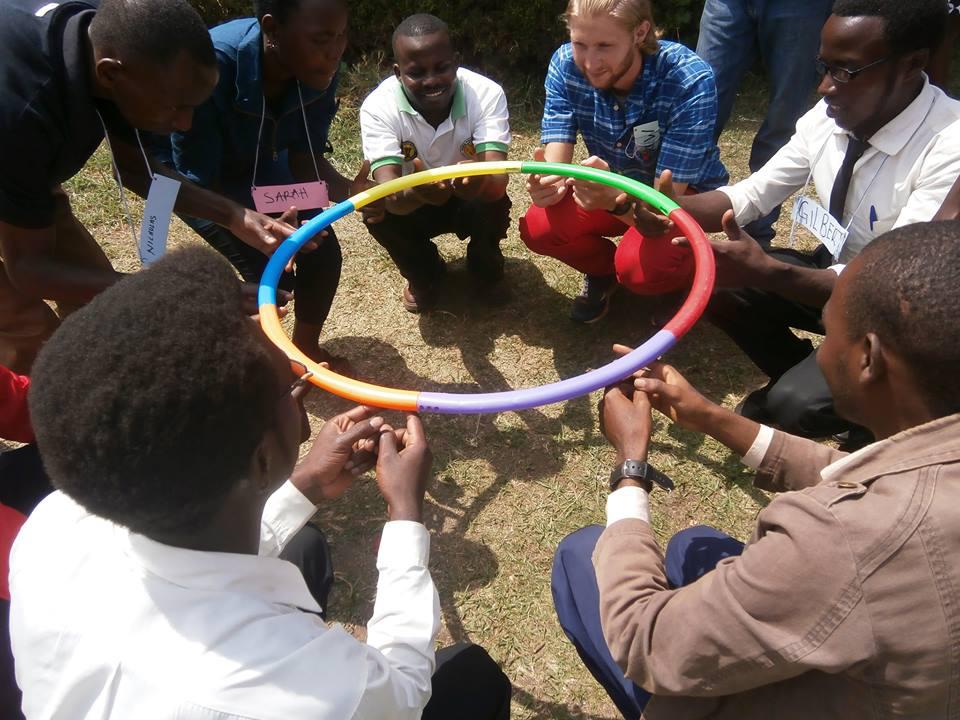 Youth conducting team building exercises at YAWE Foundation during training.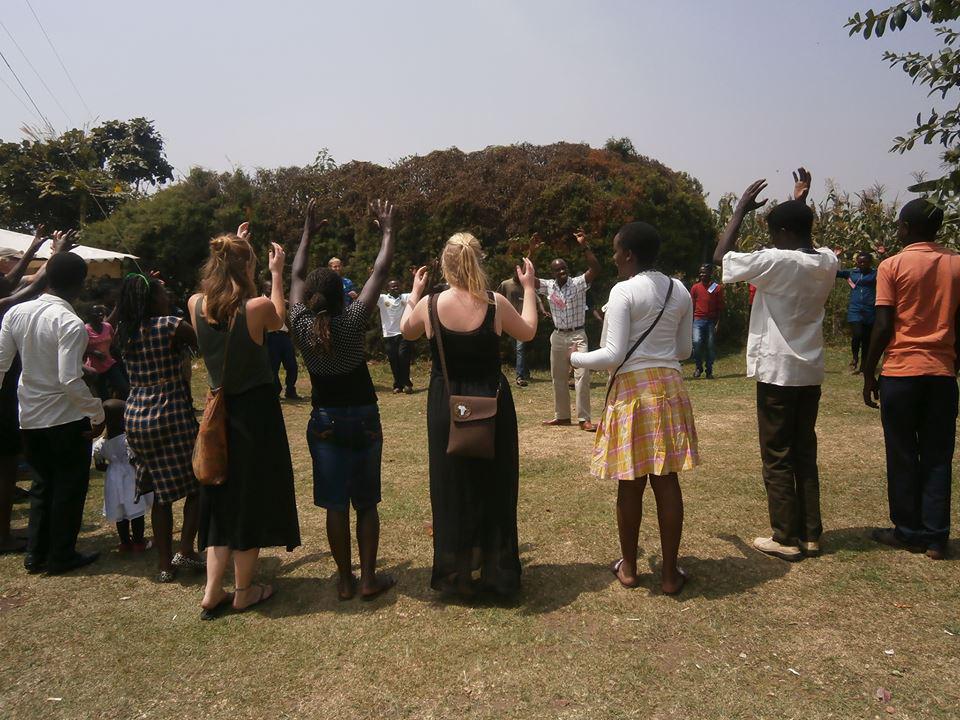 Admission
The training takes between three months to one year depending on the course selected, and the intake is on a quarterly basis and at the end we award certificates. The training takes place at YAWE Foundation Youth Center, Rwengoma. If you are interested in joining any of our training programs contact us on the address below for details:
Youth and Women Empowerment (YAWE) Foundation
P. O. Box 188, Fort Portal,
Uganda.
Tel: +256 772 865 098
+256 777 363 208
Email: yawefoundation@gmail.com or care@yawefoundation.org
Website: http://www.yawefoundation.org
Face book: http://www.facebook.com/yawefoundation/