HIV Prevention Program
YAWE Foundation combined HIV/AIDS prevention program contributes to achieving the UNAIDS 2016–2021 global strategy for ending HIV epidemic which is a call to reach the 90-90-90 treatment targets whereby: By 2020, 90% of all people living with HIV will know their HIV status. By 2020, 90% of all people with diagnosed HIV infection will receive sustained antiretroviral therapy. By 2020, 90% of all people receiving antiretroviral therapy will have viral suppression. The 90-90-90 treatment targets aims at closing the testing gap and to protecting people living with HIV who are still not accessing treatment.
YAWE Foundation program activities aim at improving the welfare of OVCs especially those living with HIV/AIDS in Kabarole district. YAWE Foundation operates a youth friendly health centre in Kabarole district which offers a wide range of youth friendly health services including, HIV Counseling and Testing (HCT), Psychological consultation, Immunization, Family planning services, Antenatal care, diagnosis and treatment of Sexually Transmitted Infections (STIs). Our combined HIV prevention interventions also targets key populations such as sex workers, men who have sex with men, people who inject drugs, transgender people, prisoners, plantation workers, bodaboda operators and truckers.
YAWE Foundation has taken a significant step in providing access to HIV counseling and testing especially for children, adolescents and adults in urban and rural communities where access to such services is difficult. Accessibility to HIV counseling and testing services enable them know their status and all who test positive are referred to health facilities for care and treatment services. We make effective follow to the health facilities to ensure that all HIV positive people referred for care are initiated and retained in care so as to have complete viral load suppression. We work with the health center in Kabarole district to strengthen follow for missed appointments, lost to follow clients and clients who have failed to achieve viral load suppression for effective care and support.
We offer combined HIV prevention strategy by enabling the community access HIV prevention messages and services. Our prevention services and messages include;
Basic facts about HIV/AIDS

Abstinence

Be faithful

Condom use

Safe Male Circumcision

Elimination of mothers to child transmission (eMTCT)

HIV Conselling and Testing (HCT)

Sexual Reproductive Health

Addressing social cultural drivers of HIV/AIDS

Addressing gender issues relating to HIV transmission.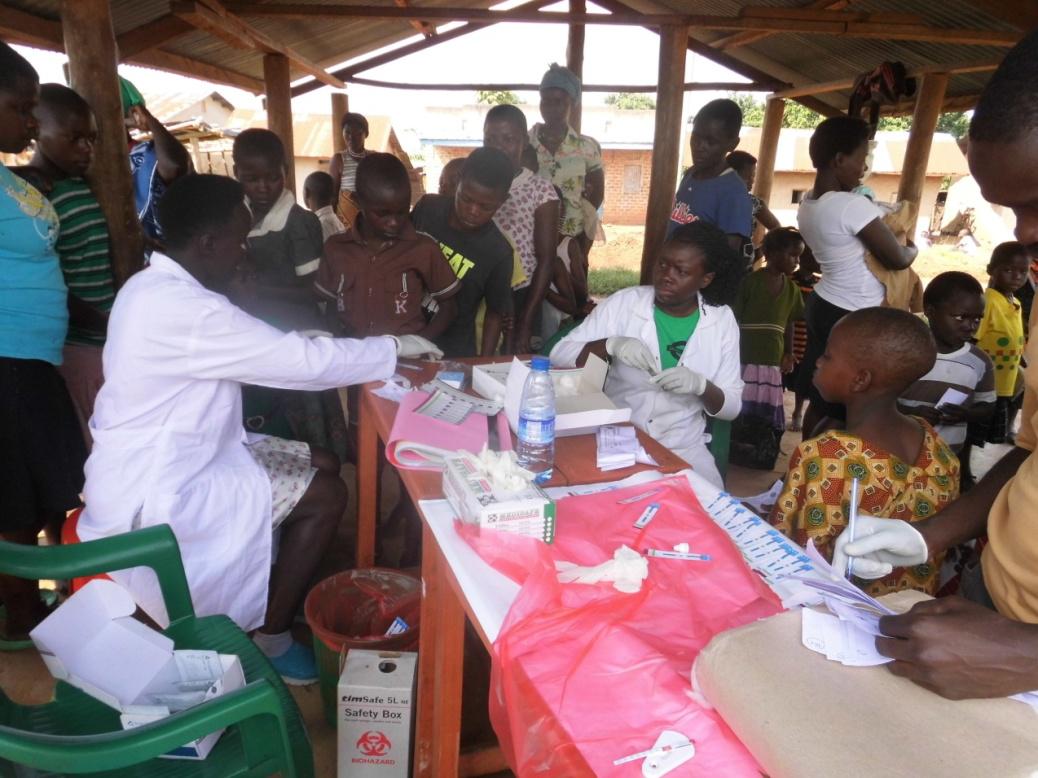 Children get tested during targeted OVC HCT in Kibasi parish, Hakibaale Sub County
Early Infant Diagnosis (EID)
YAWE Foundation promotes early infant diagnosis for all exposed infants and works with health facilities to ensure that they access appropriate services. We also conduct community and home based targeted HIV Counseling and testing services to enable all exposed children to know their status and those diagnosed HIV are linked into care and treatment.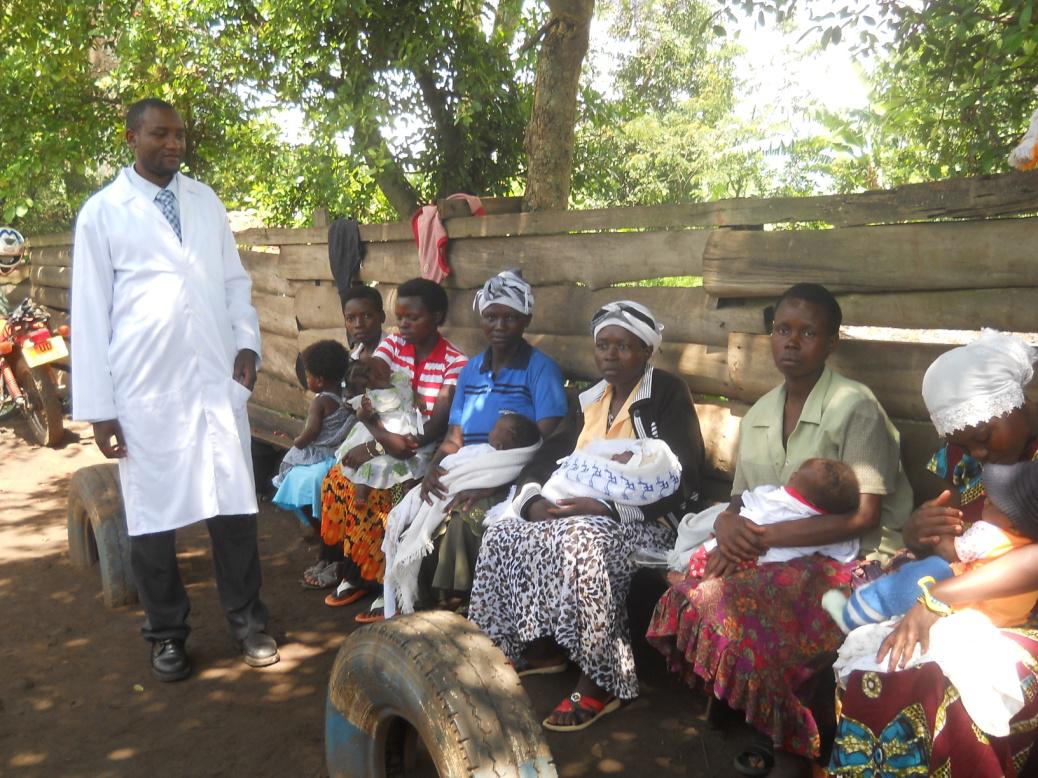 YAWE Foundation staff giving health talk to mothers during a community out reach
Adolescent's Reproductive health services:
YAWE Foundation makes access to adolescent's reproductive health services possible by providing free youth friendly health services and by empowering young boys and girls to know their reproductive health rights. The services we promote and offer include access to health information, family planning, tuberculosis and maternal and child health services. We carry out youth based community sensitization outreaches in schools and trading center both in urban and rural settings. We have established peer education clubs in schools and communities for HIV prevention and access to adolescents' sexual and reproductive health and rights.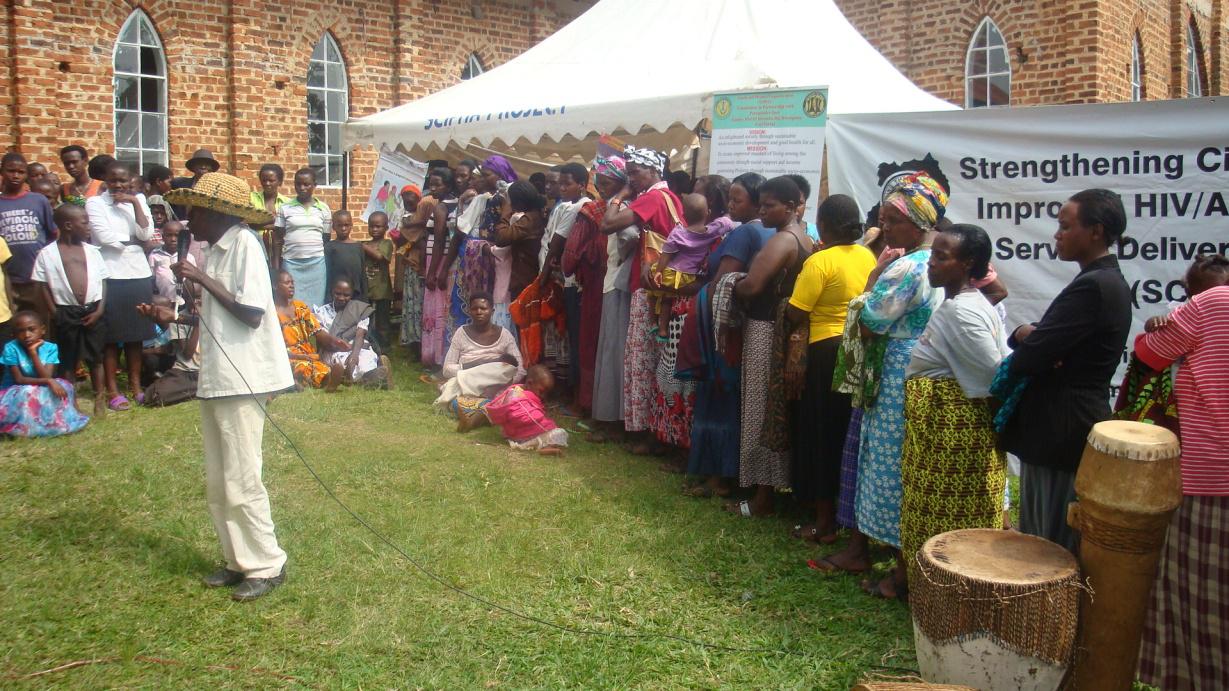 Young people lineup for HIV Counselling and Testing Services during a community outreach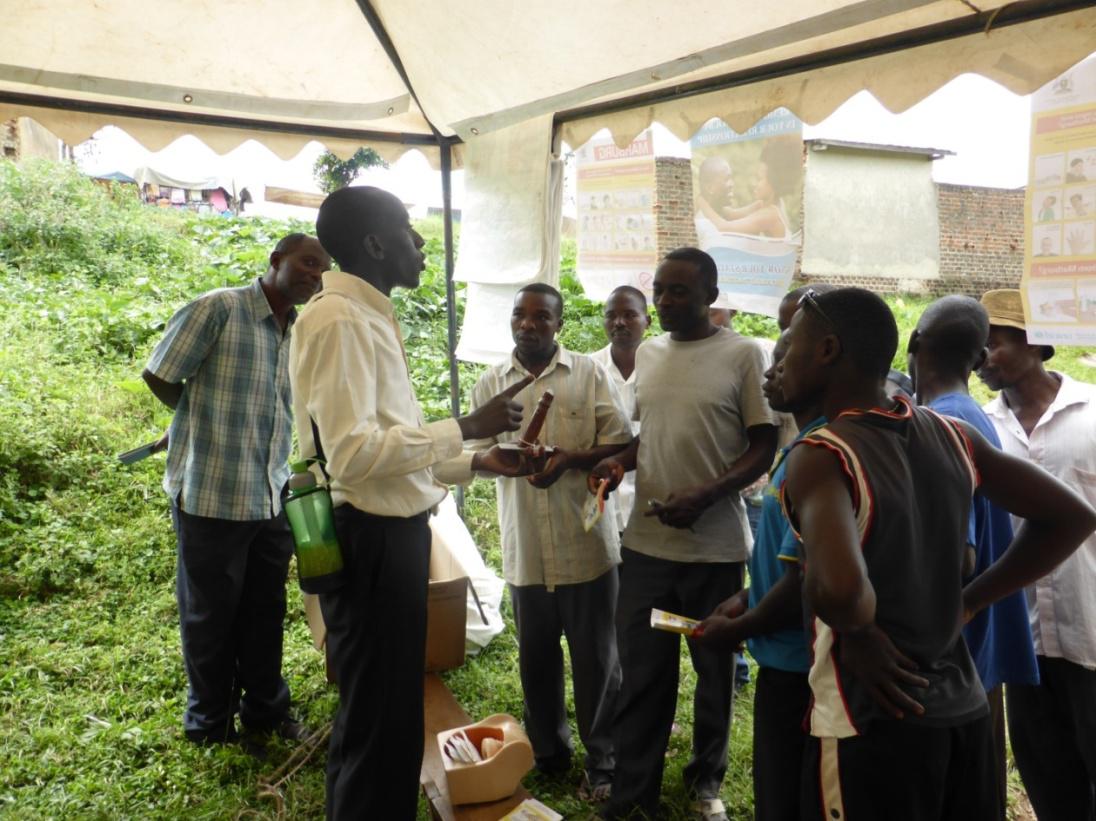 Youth learn how to use a male condom during a community outreach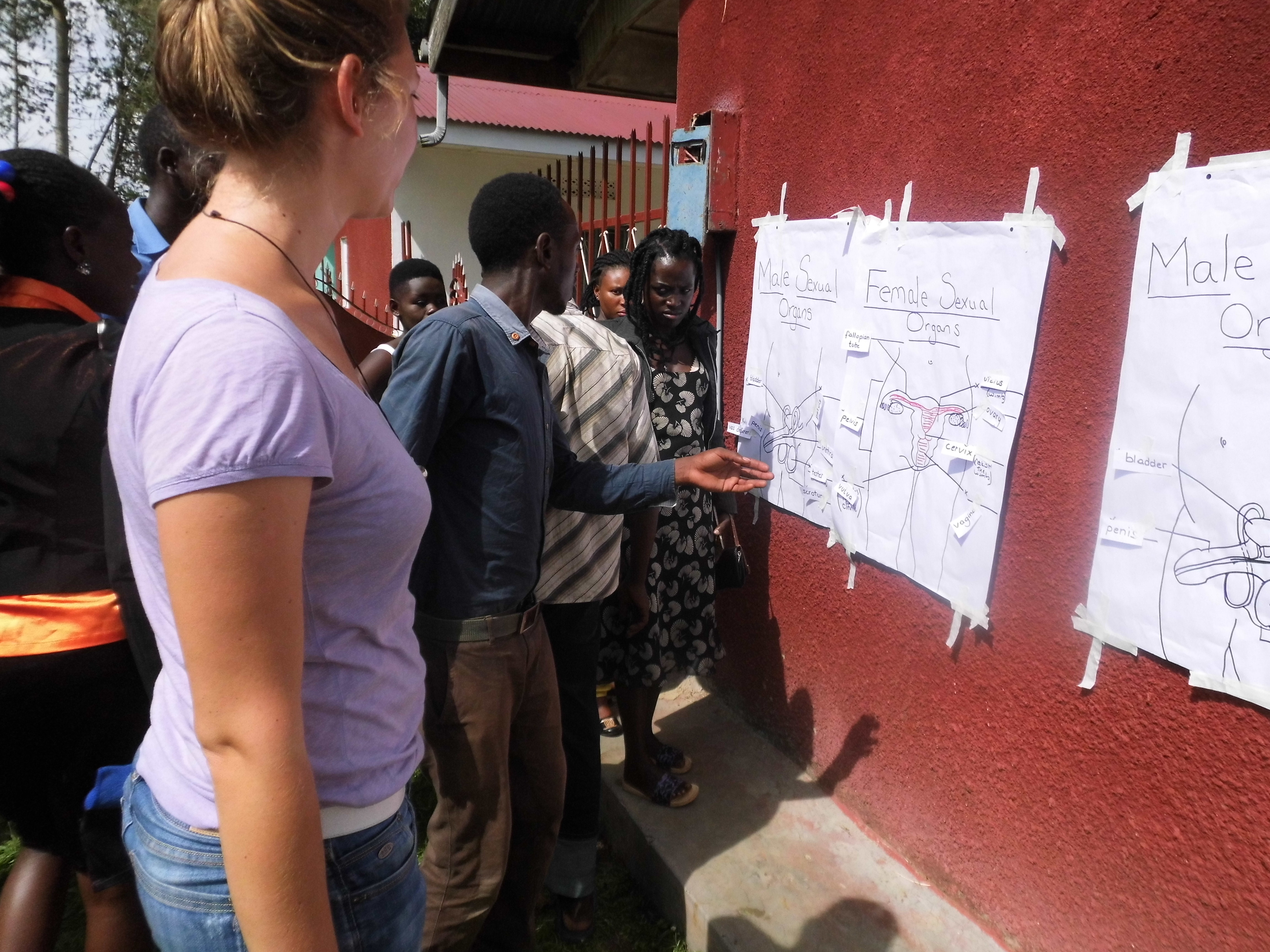 Youth participate during a sexual reproductive health session during youth conference 2016 at St. Adolf On-going Information Centre, Mukabura.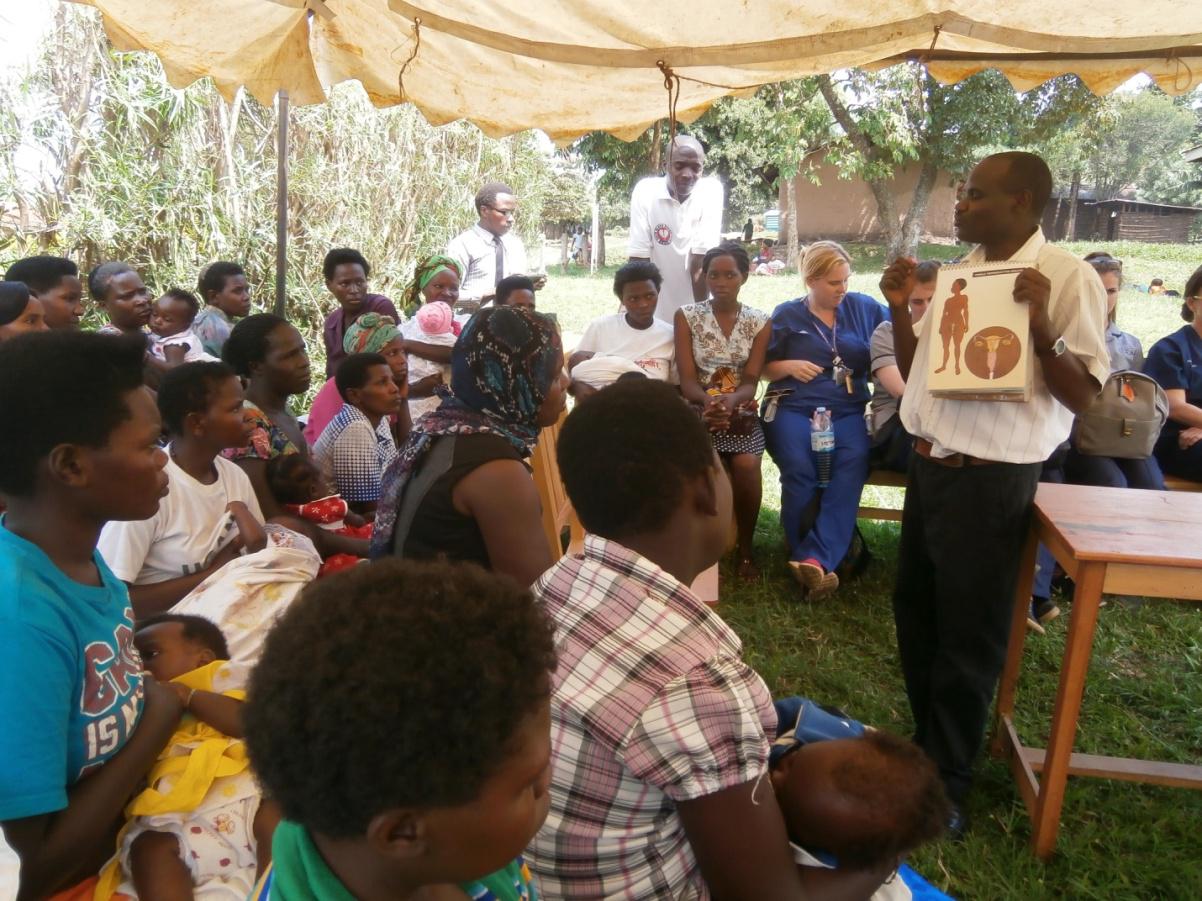 George, YAWE Executive Director gives a health talk on reproductive health during an outreach
Kabarole Unique Stars (KUSA)
YAWE Foundation has successfully mobilized Young People Living with HIV/AIDs (YPLHIV) in Kabarole and the neighboring districts with the aim of empowering them to overcome stigma, improve treatment adherence, and positive living. This has been a unique intervention that has brought on board over 300 young people living with HIV on the campaign to achieve Zero new HIV/AIDS related death, Zero stigma and discrimination, and Zero new HIV transmission. HIV positive young people in Kabarole and neighboring districts have formed a network organization known as Kabarole Unique Stars which coordinates all HIV positive young people for HIV prevention activities offer psychosocial to promote adherence and positive living through creating awareness on HIV integrated services including HIV treatment, tuberculosis, sexual and reproductive health, maternal and child health, hepatitis, drug dependence, food and nutrition support and non communicable diseases.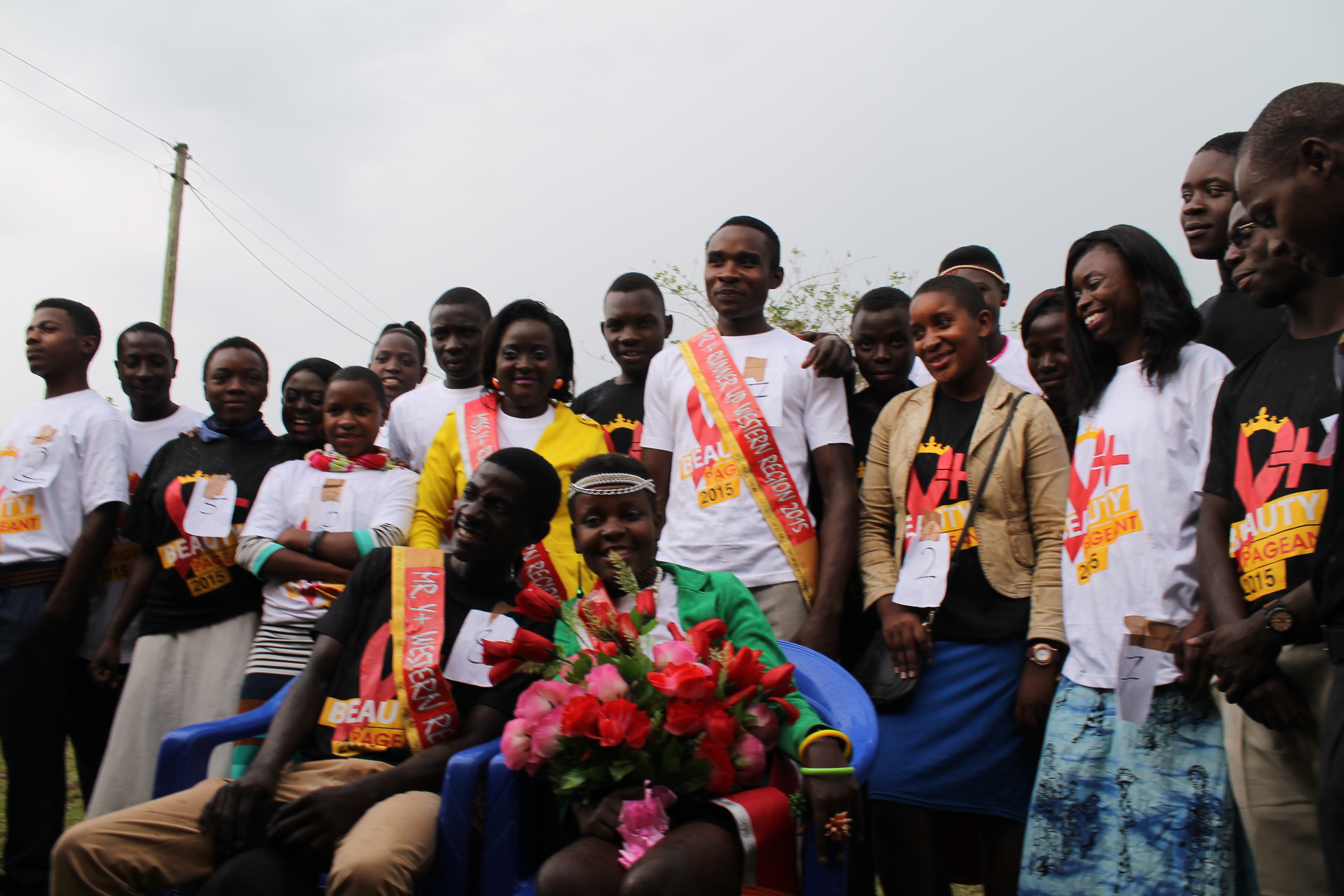 Mr and Miss Y Plus 2015 for Western Regional after Beauty Contest held at YAWE Foundation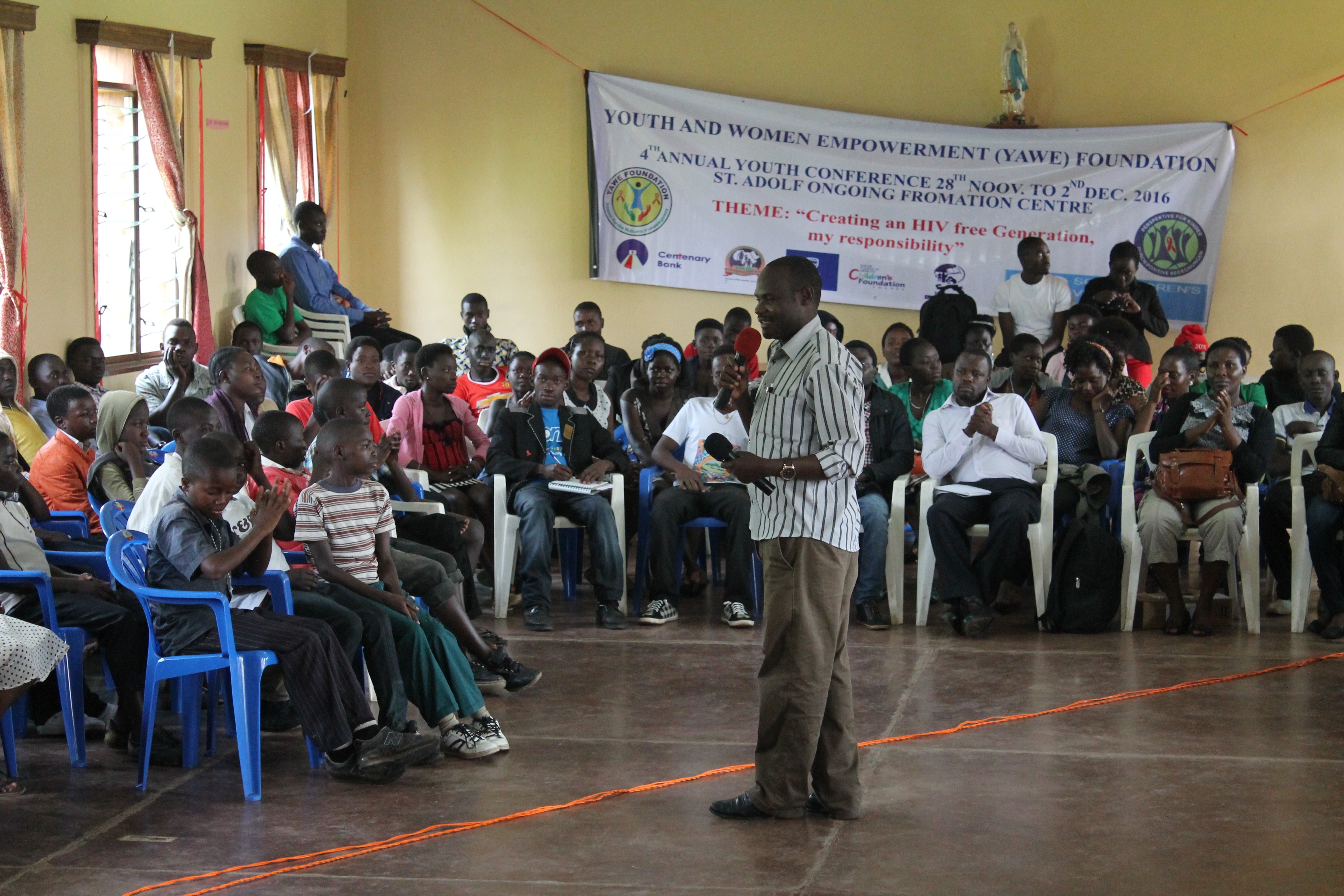 Members of KUSA receive health talk during youth conference 2016 at St. Adolf On-gong formation centre, Mukabura.
Our unique approaches to community HIV prevention program
Music dance and drama live shows

Film plays; our famous film "WHERE TO GO?" was launched on World AIDS Day at Ruteete Subcounty by Mr. Richard Rwabuhinga the LC V Kabarole district. This film contains all the information young people need to know about HIV so as to make informed choices.

Community outreaches with live shows as well as HIV counseling and testing services and reproductive health services in schools, trading centers, churches and mosques.

Radio Talk Shows and Radio debates generated from recorded songs andrama plays.

Conducting candle light memorial function each year to remember all our dears ones whom we lost of HIV and remind the community of our responsibility to support people living with HIV/AIDS and preventive new HIV infection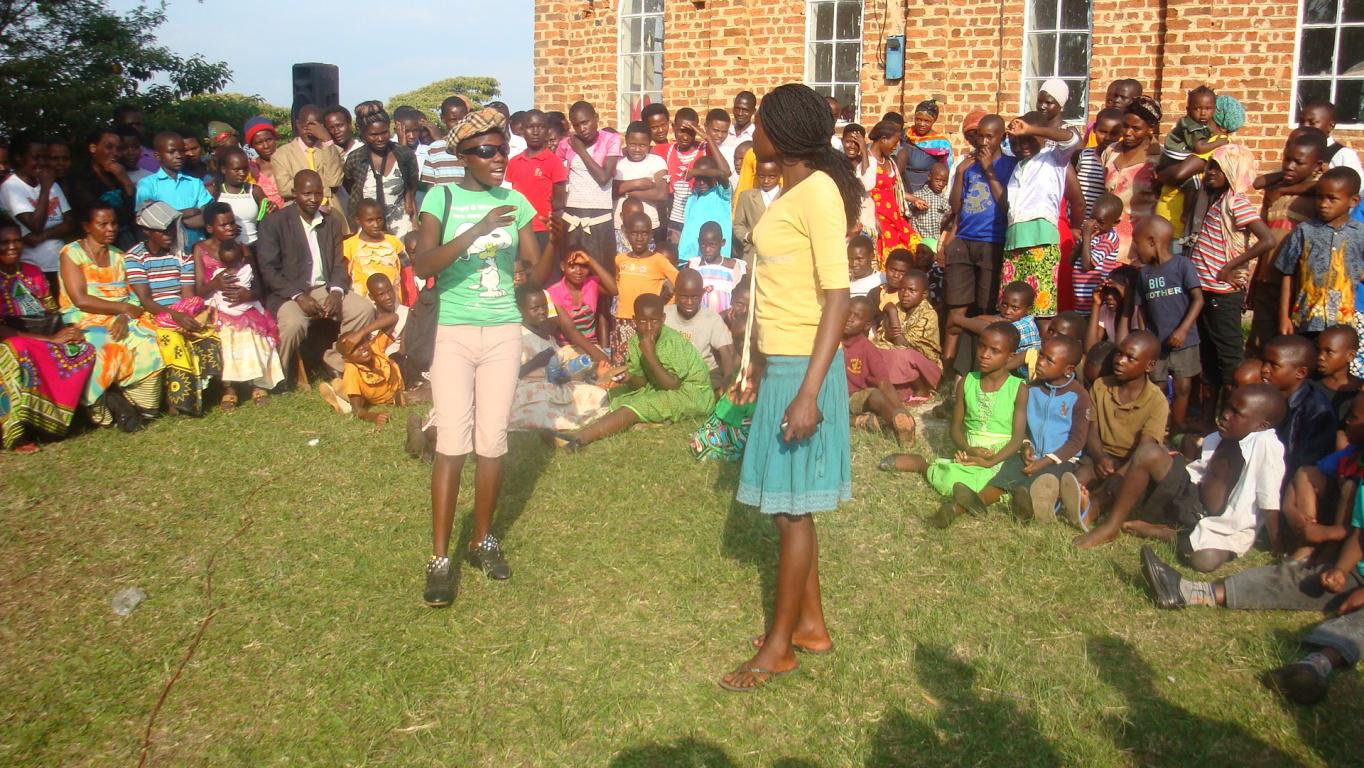 Youth during live drama show in Kasenda Sub County during community sensitization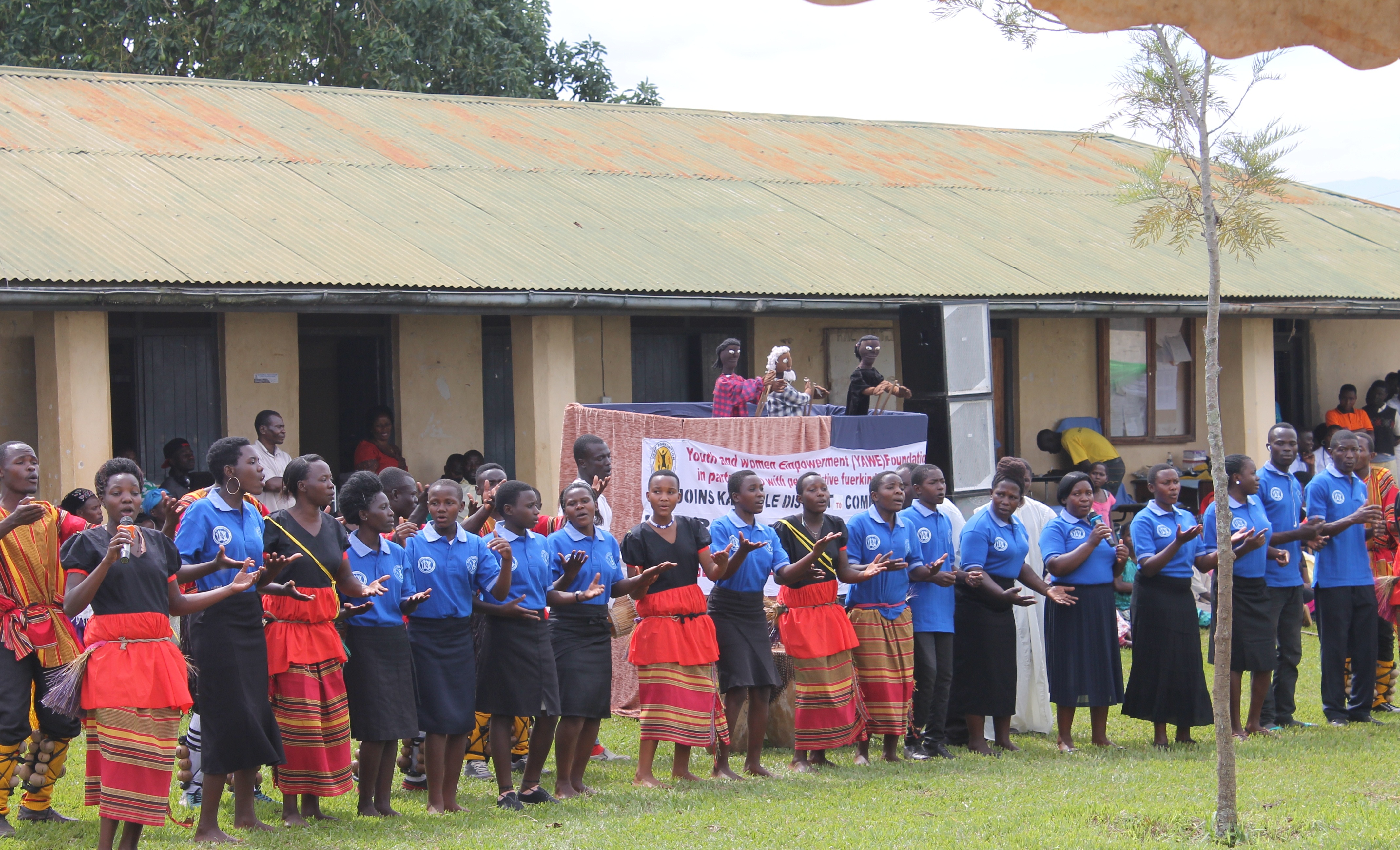 YAWE Drama during a live show during World AIDS Day 2016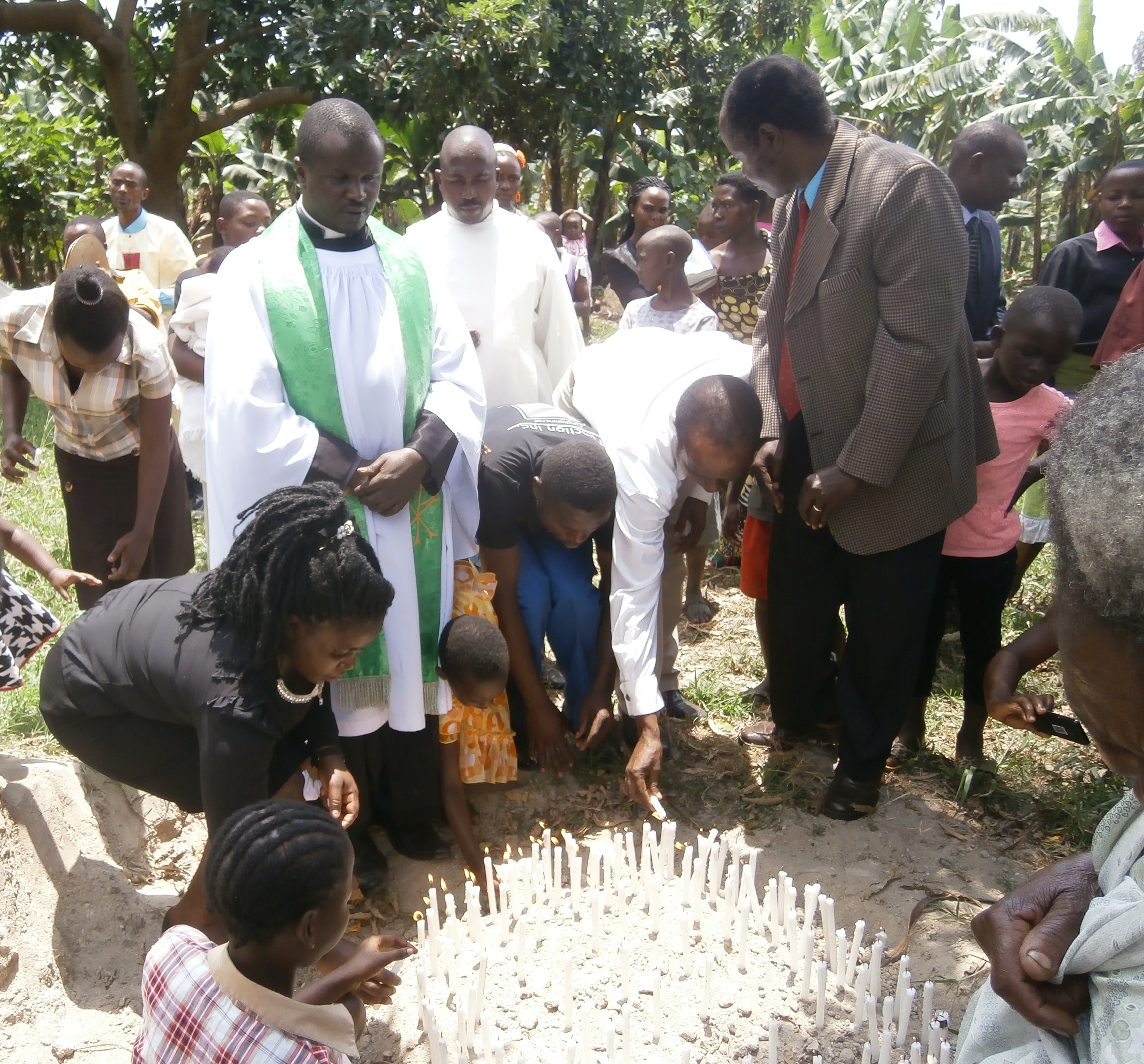 Community Candle light memorial function 2016 at Rwengoma Church of Uganda.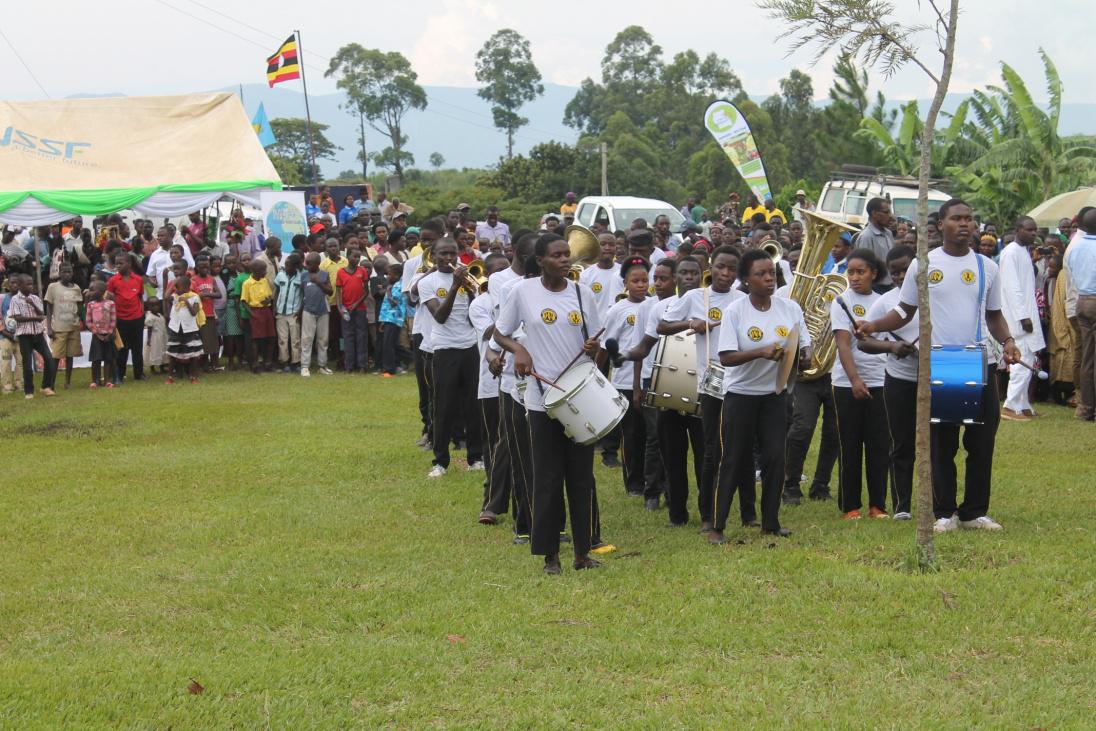 YAWE Brass Band takes the lead during World AIDS Day 2016 Commemoration