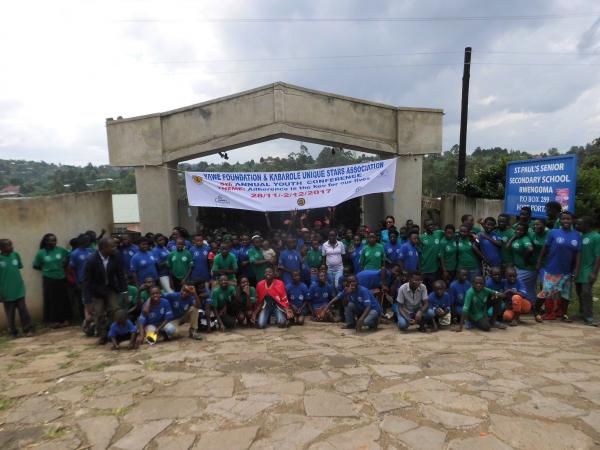 Kabarole Unique Stars Association (KUSA) is a network uniting young people living with HIV in Kabarole District, Kabarole Unique Association (KUSA) is a community based NGO/CBO in Uganda operating in West Division, Fort Portal Municipality, Kabarole district. The organization promotes adolescents' reproductive health services, HIV prevention and care, empowers young people in entrepreneurship, music through brass band training and life skills especially for young people, KUSA also promotes positive prevention and reduction of HIV-
stigma and discrimination.
Mobilize over 200 young people for HIV prevention
Kabarole Unique Stars Association (KUSA) in partnership with Youth and Women Empowerment (YAWE) Foundation is organizing the annual youth conference under the theme: "Positive prevention is our priority". The conference will take place between Nov. 28th to Dec. 2nd and be held at Kahinju secondary school girls hostels in Rwengoma West Division Fort Portal Municipality. There will be over 200 young people, which are affected from the HI-virus. The main objective for this conference is to mobilize the youth for HIV Prevention interventions and stigma reduction through promotion of disclosure.
World AIDS day, Dec. 1st
This Conference is timed such that the youth will come from the Conference to participate in the world AIDS day event on 1st December 2018. Their participation will form part of the strategy to promote positive prevention and reduction of HIV stigma and discrimination. Afterwards they will return to the Conference and have a closing ceremony  the following day.
Support for conference
To be able to  organize and lead the conference  we  are dependent on  contributions.  Help us, to work to reduce HIV-stigma and discrimination.  If you have any questions do not hesitate to contact us on tel. +256 772 8650 98 or the Email kabaroleuniquestar@gmail.com or use the following bank account number to donate money directly: KUSA Centenary, no. 3201040387